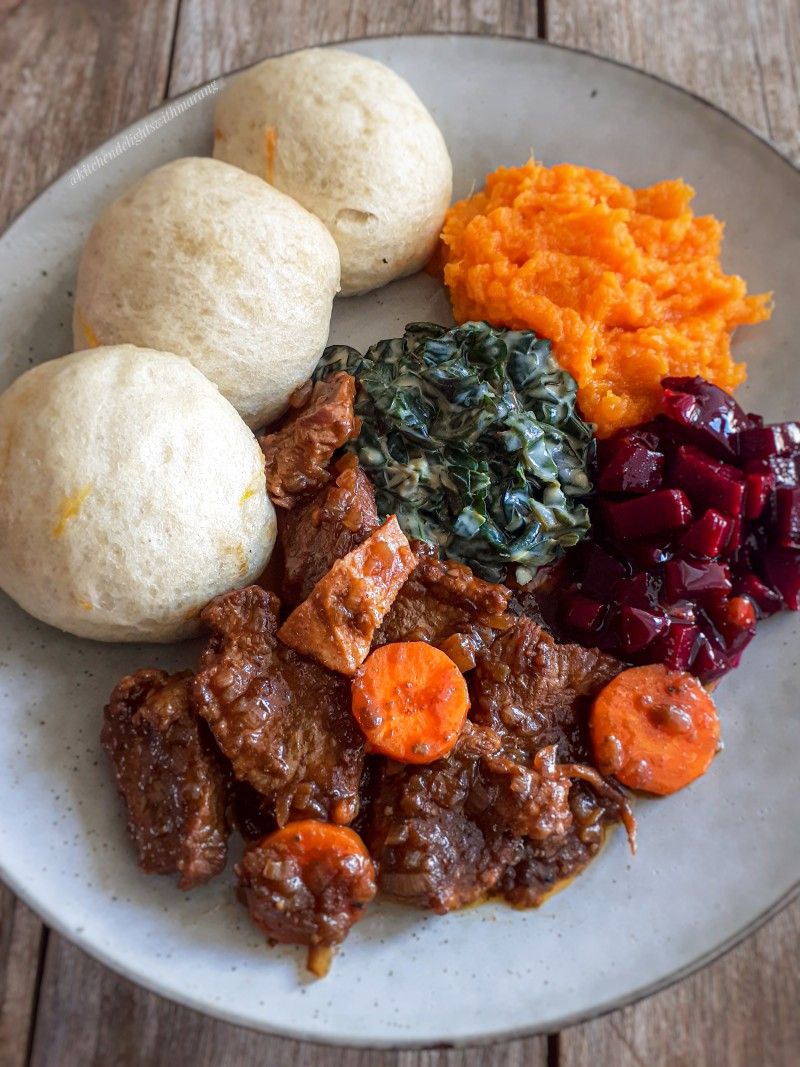 The Eclectic World of Setswana Cuisine
That wasn't a typo! Here's a crash course on the different ways to refer to all things from Botswana:
By Shayera Dark
That wasn't a typo! Here's a crash course on the different ways to refer to all things from Botswana:
Botswana is inhabited by Batswana (plural)
But if you are from there, you are Motswana (singular)
When Batswana meet in a foreign country, they delight in speaking Setswana (the language)
If you are in a particularly rebellious mood, you can refer to anything from there as Tswana, and drop the prefix altogether.
Got it? Good. I knew it wouldn't be so difficult!
When the coronavirus pandemic hit Botswana in April and forced the southern African country into lockdown, Gaone Mokgethi paid attention to a niggling thought. She quit her TV producer job in December 2019 and for months afterwards, Mokgethi struggled to find a project that was fulfilling. Once the pandemic hit, empty hours made room for cooking; lots of it, with ingredients sourced from her garden. "There was nothing to do at home, so I figured: Why not take the opportunity to start a food blog?" said Mokgethi, who is based in the town of Palapye, 200 kilometers north of the capital, Gaborone. The former TV producer has a loyal Instagram following and several requests for private cooking lessons, which she has had to limit due to the pandemic.
Currently, Mokgethi whets her followers' palates with images of mouth watering dishes, and often fields requests online for specific dishes in a manner reminiscent of a radio DJ.
She recently cooked jollof rice, a popular West African dish she'd never made nor eaten. "They wanted to see me cook it, so they can try it," she said of her Batswana followers, adding that she would be trying out pomo (cowhide), a feature in Nigerian soups, next.
Like Mokgethi, the lockdown convinced recent university graduate Wanatsha Mokgwathi to expand her culinary talents. A blogger since 2017, Gaborone-based Mokgwathi shared her gustatory experiments on Instagram featuring banana breads, cinnamon rolls, and doughnuts, the last of which won her a ton of compliments that eventually sparked an entrepreneurial idea.
When lockdown eased, she sold doughnuts to fellow students in the last few months of school to gauge their response, which became the impetus to start the doughnut business she currently runs from home.
By Shayera Dark
Mokgwathi also found comfort in traditional Setswana food during lockdown, her favourite being Tjimoni, a Kalanga dish consisting of samp, crushed groundnuts and beans boiled together.
For Mokgwathi, who is also Kalanga, it's the mopane worms, a delicacy closely associated with the ethnic group, that remind her of her roots. Harvested from the mopane tree, the worms are either fried or boiled and served alongside bogobe jwa lerotse, a thick porridge dish made from sorghum, flavoured with the indigenous yellow watermelon (lerotse).
Thousands of kilometres away in South Africa, traditional Setswana cuisine beckoned to Marang Lebotse during lockdown, so much so that in March, the marketing and brand manager created an Instagram page to showcase her edible pieces of art.
"I love cooking and sharing food with friends and close family," said Lebotse, "and when we went into lockdown, I thought: Why not share my dishes with the world? That's how I started."
To bolster her credibility, the Limpopo-based food blogger more or less taught herself photography and food presentation.
One of Lebotse's favourite dishes from her native Botswana is madombi (dumplings). Composed of flour, yeast and sugar, the dough is steamed in mugs placed in water over medium heat for one hour, resulting in tennis-ball size knots of bread that Lebotse enjoys with seswaa, slow-cooked, pounded meat.
"I love dumplings. It gives me a sense of belonging and takes me down memory lane to my childhood in Botswana," she added.
Lebotse has no qualms substituting Setswana ingredients with South African ones as in the case of using butter beans in lieu of black beans for dikgobe, a dish of samp and beans. For her, experimenting with substitutes makes cooking even more exciting.
Following business closures caused by the pandemic, Batswana suffered salary cuts and job losses and a dismal labour market awaits recent graduates. That said, young people like Mokgwathi and Mokgethi have identified the opportunities in their passions and aim to grow their businesses to alleviate the pressures of youth unemployment.
"My future seemed bleak at the start of lockdown," said Mokgwathi of the limited job opportunities. "But the light at the end of the tunnel for me was trying out the doughnuts, which became a business that is paying and sustaining me."
Join the newsletter to receive the latest updates in your inbox.