Of Necessity and Invention
Promise Fiadzigbe, an electrician turned inventor. We find out how he innovated and built a poultry incubator from scratch to provide for himself and his community.
What led you to the idea for your invention?
At the time, a colleague called me and said there was a program on the radio that I should listen to. I didn't have anything to do, so I tuned in. It was a Mastercard Foundation Program. I had participated in one before and I know how good their programmes are and how it helps the youth, so I decided to participate and went through the processes. Later, I was added to the Whatsapp platform, one for an electrical engineering group.

My active participation in the group got me selected as the class rep. There was a mentoring session, e-learning and e-counselling. I listened to one of the mentoring audios from Rev. Albert Ocran titled "Talent discovery, how to use your talent during the pandemic" which explains how to use your talent to do something for the community. After listening, I had an idea.
Much earlier in my life I had made a prototype of an emergency alert system, but along the line, I gave up, because comments from relatives, family and friends were disheartening. But after listening to the programme, I regained the zeal to go back to my inventions. That's when I came up with the idea of creating an incubator to hatch eggs for the farmers in my community, bringing it right to their doorsteps.
I failed many times but  I kept trying until I got it. It was difficult, but thank God everything was successful, especially after my friend who was at the time at the Accra Technical Institute helped me put the plans together.
Tell us a little bit more about the incubator.
The incubator hatches eggs over a period of 3 weeks. They each take 300, 100 and 80 eggs at a time. I have sold some of these incubators and the results were good. I have also started my own poultry farm with the eggs that I hatched. I have turkeys, ducks and chickens.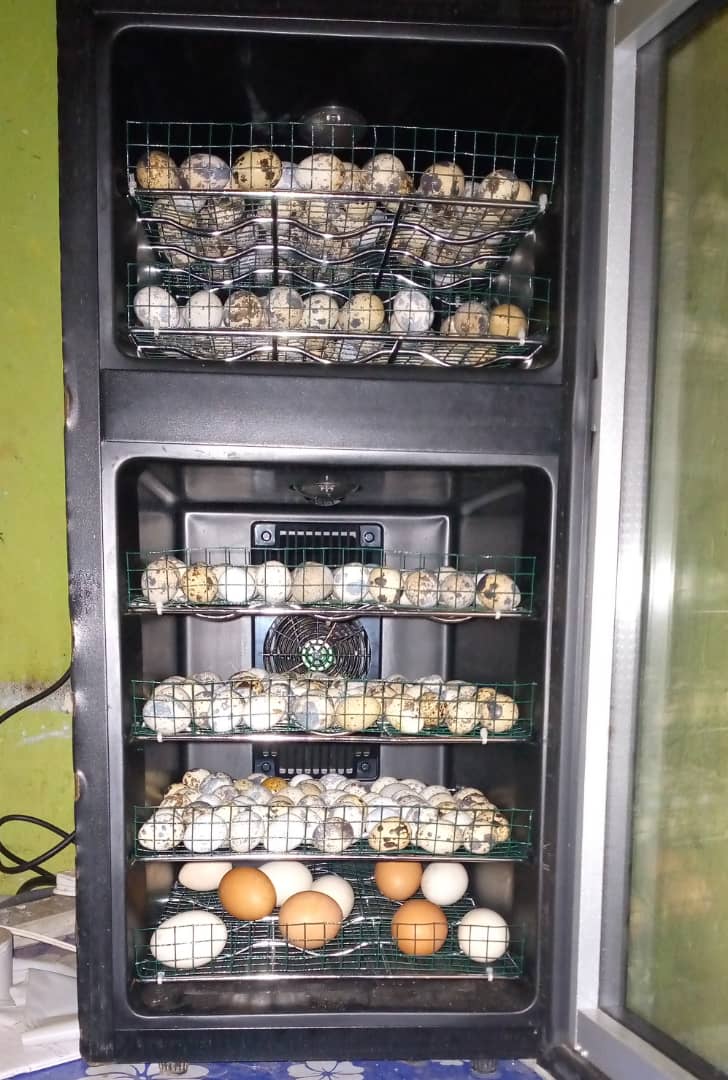 You built this by yourself?
Yes, from scratch. It was challenging at the time because my friend lives outside Accra, in Suhum in the Eastern region of Ghana. So we each did our research and after sharing ideas we got the prototype done.   We would talk on the phone or use the Whatsapp video to see the different parts of the equipment we were putting together.
I learnt how to use social media profitably, how to deploy the use of social media for business. I learnt other important things such as proper customer service and effective negotiation skills.

What impact has the incubator made in your family and community?
I have sold some and received money to take care of my family. Farmers in my community use these incubators and feed the population with the excess eggs that they produce. I live in Ashaiman in Accra. Poultry farmers do not need to travel all the way to the centre of Accra to purchase day-old chicks. I have impacted my community because many have started poultry farms with my chicks and can also earn an income to care for their families.

Has COVID been beneficial?
Yes. If it had not been for the COVID pandemic, I would not have gone back to my ideas.
What were some of the challenges you faced?
Getting financial support and office space. I had to move the things from where I live, to where my colleague is. Another challenge was obtaining raw materials. In fact, I wanted to give up! I worked and worked and sometimes I would get no money from it. So, it was like a bridge. How to cross the bridge was a problem. I had to give up some of my personal comfort to realize my dream.
If there is someone out there who is still struggling or needs hope after the pandemic what will you tell them?
I would tell them that no situation is permanent. They should have hope. If you have a dream, start small, dream big and act now!

Join the newsletter to receive the latest updates in your inbox.