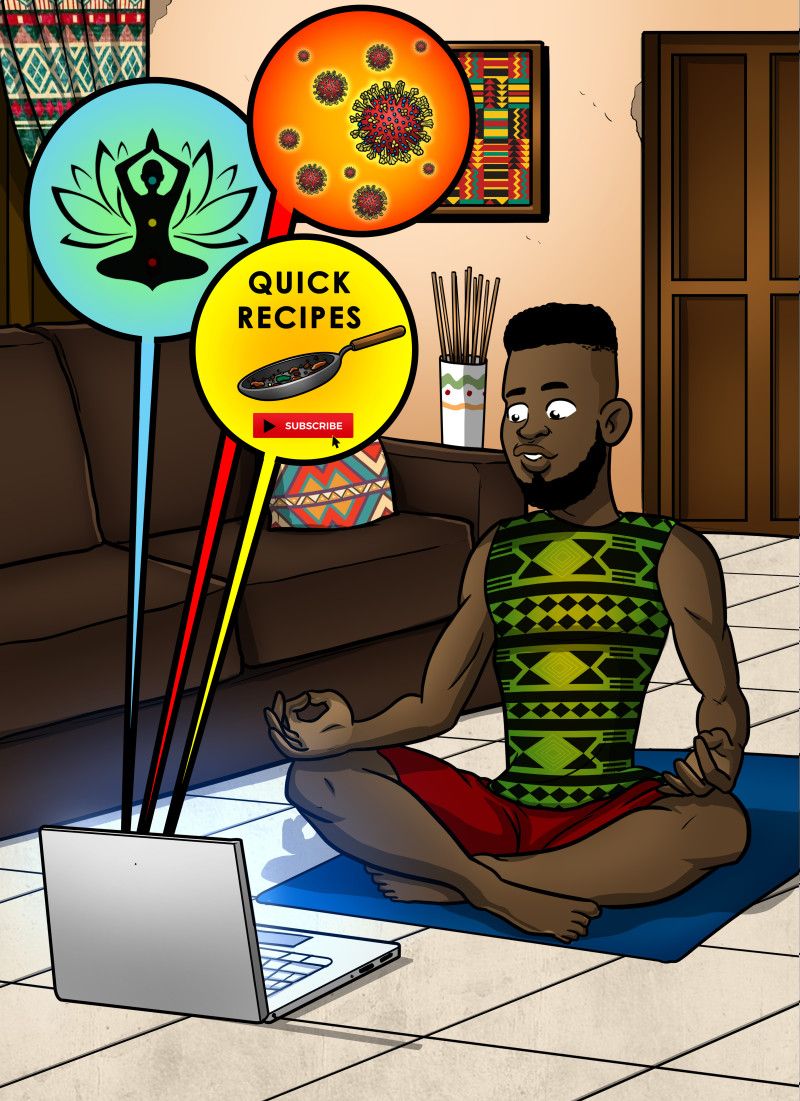 Mental Health and Covid19 for Nigeria's Youth
3 young Nigerians about their experience of coping with mental health during lockdown.
Covid19 restrictions and lockdowns led to negative effects on mental health on people from disparate walks of life, the world over. In fact the World Health Organization (WHO) noted that people who were holed up at home for a long time, became susceptible to loneliness, elevated rates of stress, anxiety and depression among other repercussions.
According to a Nigerian study published in August 2020, at the height of the first wave of the pandemic in the country, it was discovered that depression went up to about 55% in males, 49% in females. In the same study, anxiety was found to have spiked by 51%. I spoke to 3 young Nigerians about their experience.
"It was very tough, to be honest with you. I was stuck at home with my parents. We don't get along that often, so we would fight over the most trivial things. We would also fight over things that mattered to me—imagine hearing queer phobic and misogynistic things said under the cloak of religion, all day long. You would lose your mind.  My anxiety also skyrocketed. There were days I went to bed in tears. On other days, I would call my best friends and they would lull me to sleep. I also didn't want to have anything to do with the news. As the deaths increased, there was just one question on my mind: was I next? However, I learnt how to play board games; chess, ludo and scrabble. Although I am not perfect yet, I realised little things like winning a scrabble game lifted my mood." — Damiloju, 19.
"I wanted to die. Nothing exactly made any more sense. My life was already in disarray and the pandemic was that tipping point. I overdosed on sleeping tablets at a point but some way, somehow, I didn't go under. I started to self-harm. It started with creating welts on my skin with rubber bands then to full blown use of sharp objects. I needed to control my mind which was filled with intrusive thoughts. It didn't work anyways.  I used psychoactive drugs too. I was too sad and I needed an alternate reality. However, in the heat of the pandemic, I got a job. It was a dream job; I became a remote writer for a media team. I had tasks and meetings all day. It wasn't a strong suit but I easily adapted to it. Not only did it up my productivity -by reducing my idleness- and finances, but it also helped distract me from the thoughts of the virus." —Milan, 21
"I stress ate and overslept. Sleeping at 9pm and waking up at 12am the next day was the norm for me. Everyday seemed the same, so what was the point? The pandemic put the most important part of my life, the academic part, on hold, so what was I meant to do? I became a cleanliness freak, too. I would wash my hands several times in a minute and I would stay in my room for fear of touching surfaces, even in my own house. It was pretty traumatizing and chaotic. On the plus side, I was able to pick up hobbies from YouTube; I learnt how to yoga by following Yoga with Adrienne. It helped calm my mind and strengthened my core. I also tried out new recipes: Chicken teriyaki, peppered turkey wings, Party Jollof rice, Moinmoin and Akara. You can call me a chef now." —Yusluv, 21.
Even though the surge in infections has reduced, it has indeed been an unprecedented period for everyone. The lockdown was lifted several months ago, and places of work opened and the nation returned to a version of her normal self. Reverting to people interviewed, even though they felt some trepidation and fear when they are outdoors, the lifting of the lockdown has been a breath of fresh air. They can go out and visit friends. They feel better and restored and social connection has improved their mental states.
However, in the future, mental health and psychosocial support services that are relevant to this age group should be available to all as persons. As interviewees mentioned there was little or no mental assistance during the peak of the pandemic. Also, there should be government owned facilities which are up and running, affordable and accessible to all.
Join the newsletter to receive the latest updates in your inbox.