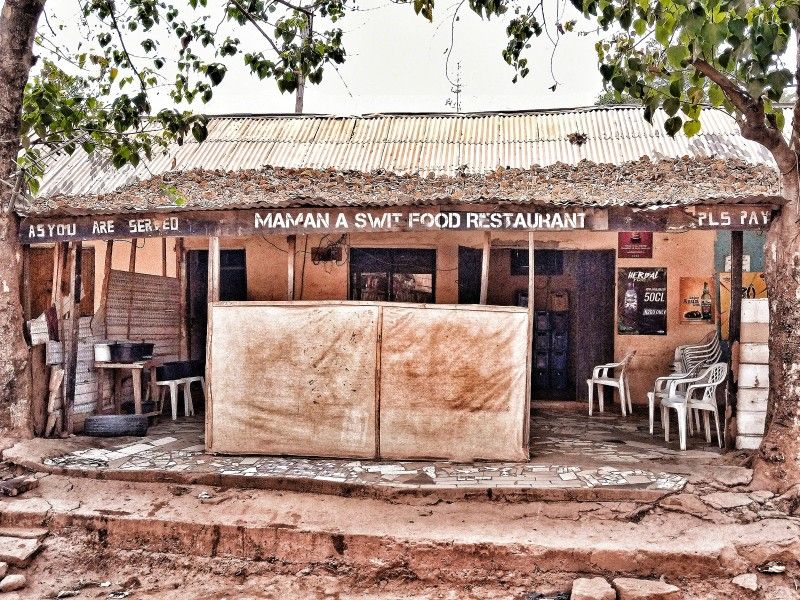 Maman Aishetu: A One-Woman Army
Maman Aishetu is an anchor in the community, providing hand sanitiser and masks for all who come to her buka.
Maman Aishetu runs the local buka, Maman A Swit Food Restaurant, situated five kilometres from my house. The buka, a small, dim room, is dominated by a decrepit wooden table haphazardly surrounded by chairs. But nobody goes there for the ambience. The motorised tricycle drivers and motorcycle mechanics go for the portions, which were larger and came cheaper than Mama Oyo Amala Spot located in the high-rise plaza across the road. Some, like Kamalu, the neighborhood's emergency mechanic, go for the banter with Maman Aishetu, exchanged across the room in loud sporadic Yoruba.
"Look at you," Maman Aishetu would say as she wraps his amala. "At your age you don't have a wife. Every day, you come here to disturb me."
"If I don't come here to disturb you every day, will you be here?" Kamalu would respond in jest. And on and on they would go.
The day Nigeria announced its first covid case, I went to the buka, as usual, to supply bottles of water.
"Aunty Yellow," Maman Aishetu called out to me in Yoruba, "Have you heard the latest?"
"No," I replied, smiling. "But I'm sure you will tell me nonetheless."
"There's corolla in Nigeria now o," she said, stacking the bottles in her freezer.
"There's always been Corolla in Nigeria, Maman Aishetu," I deadpanned. "I just drove one to come deliver water to you."
"Aunty Yellow, I'm serious abeg." She wiped her hands on a rag. "You know that my sister that you usually meet here? She has a shop that sells chemicals o. Tomorrow, I'll go and learn how to make sanitiser. I already know how to make liquid soap. They said we should be rubbing sanitizer every time."
I nodded again. "That's a great idea, Maman Aishetu."
The next time I stopped by the buka, there were over fifty tiny bottles of liquid soap and hand sanitisers displayed on a table near the entrance.
"Are you selling these, Maman A?"
"No o," Kamalu answered from outside. "It's free of charge. People have been coming here to collect since last week."
Mararaba, the neighbourhood where Maman Aishetu's buka is located, sits on the border between Nigeria's capital, Abuja, and Nassarawa State.  A few weeks after the first covid case emerged, Abuja announced a country-wide lockdown, which failed to consider the homeless, like those under the Mararaba Bridge. What does a stay-at-home order mean for people who do not have homes? Where would they go? I wondered. The state provided neither answers nor solutions. Yet the order was clear: Everyone should get off the streets.
On the eve of the lockdown, I went to Maman Aishetu's buka to pick up the packs of water I had delivered the day before to return them to the factory. The restaurant was the busiest I had seen.
I called out to Kamalu, recognizing his frame from amongst the masked men in the compound, "What is going on?"
"Maman A is turning her buka to a house o," he said, lugging one of the tables to a corner in the compound where others were piled.
I found Maman Aishetu vigorously sweeping the anteroom.
"What is going on?" I asked, hoping to get a clearer explanation than the one Kamalu had given me.
She straightened. "Aunty Yellow, lockdown is starting tomorrow."
I told her that I wanted to pick up the bottles of water I had supplied yesterday, seeing as she won't not be needing them.
"No o. I need them," she said, propping the broom against the wall and dusting her hands. "I'm turning my buka to a house."
"A house for whom?" I said incredulously.
"For the people under the bridge. Starting from today, they will be staying here until lockdown ends."
And that night and every day during the lockdown, the repurposed buka sheltered homeless people. And when anyone commended her charity,
Maman Aishetu simply responded with a shrug, "God put us in this world to help each other."
Months later, lockdown eased and life returned to normal, but on the table at the entrance of Maman Aishetu's buka, tiny bottles of hand wash, sanitisers and face masks sat pretty… free for all.
Join the newsletter to receive the latest updates in your inbox.