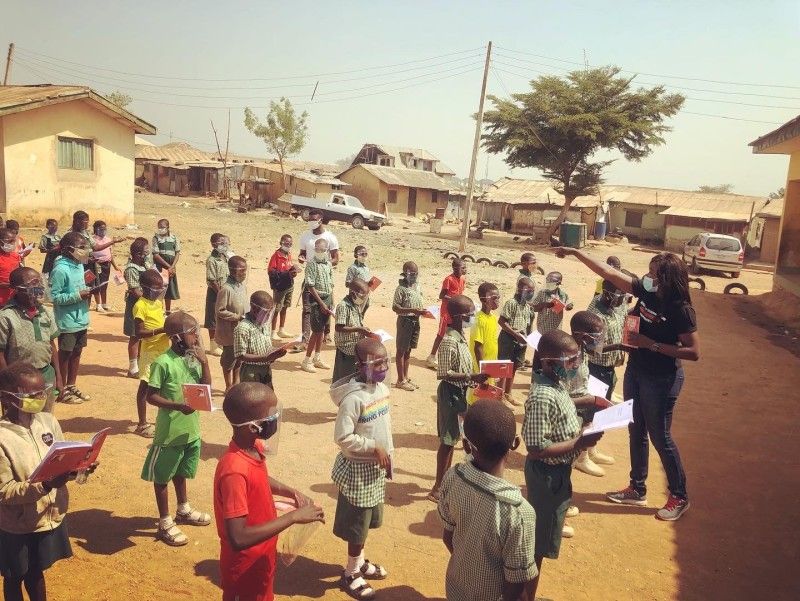 Learning Beyond the Classroom
On a visit to one of the camps in Abuja to distribute the free food items, the children asked a lot of questions about COVID-19 that kept us at the camp for hours. At the end, it was clear that so many children out there knew little or nothing about COVID-19.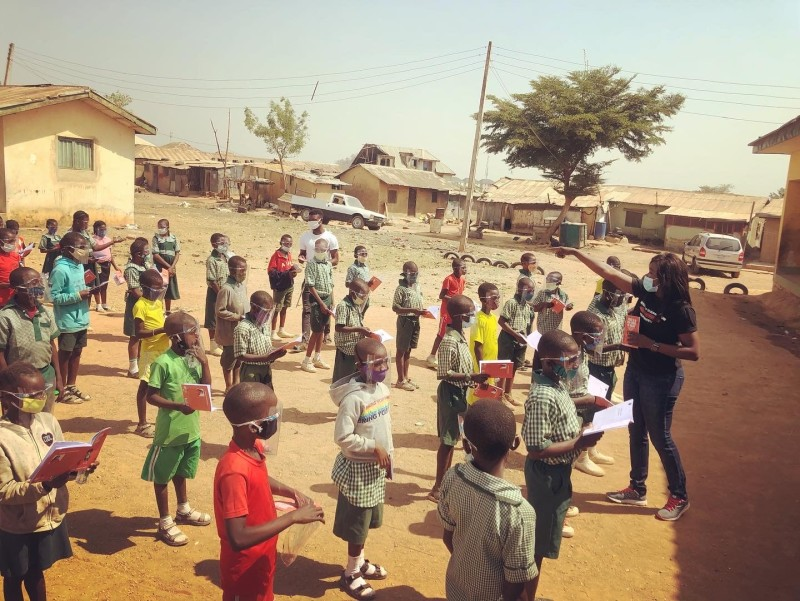 At the end of the year 2019, we created an elaborate 2020 plan for our projects at Beyond the Classroom Foundation. As we got closer to our second project scheduled for the end of March, the government imposed a lockdown, banning all public gatherings as part of their attempts to limit the spread of COVID-19, and instantly everything had to be postponed.
I watched the news and saw how COVID-19 was spreading across the world so quickly, causing so much pain, death and disruption. A lot of families in poverty in Nigeria who were dependent on casual, low paid, unstable work, lost their jobs and were forced to lockdown because of the coronavirus outbreak. Many had very little to fall back on. That break in income had devastating consequences, because missing daily work directly relates to missing meals for their families. My phone started ringing nonstop with request for food and support. I was heartbroken knowing I couldn't help everyone.
Learning was also impeded for children from lower income households including the children we work with at the internally displaced persons (IDP) camps in Abuja. These displaced people, about 70 percent of whom are women and children, have been in the capital city since 2014, after fleeing the attacks on their villages in the northeastern part of the Country by Boko Haram.
The children at the camp couldn't attend school online because their schools aren't tech enabled, online learning was impossible. We discussed getting used mobile tablets they could be used for online learning but everyone at the camp said it wasn't a good idea. "There's a lot of poverty here" they said "getting these children tablets with internet will expose them to thieves and hoodlums". It was devastating knowing these children will be completely cut off from school. As always, I encouraged the parents, to educate their children at home even if they're out of school.
Our first intervention was "Education against All Odds". We designed the project to enable them continue learning despite the lockdown. Another partnership got us a three part workbook for 200 children, ages 5-9. This was distributed a week before the imposed lock down by the government. The excitement and gratitude of the children and their parents when we delivered the workbooks was really encouraging.
During the distribution, my team met with the parents of our beneficiaries, some at the IDP camps were happy the children will continue to learn even during the lockdown but worried they have no food to eat and could die of hunger. Saying they die of hunger is something no one wants to hear. As a teenager, after I lost my dad, I lived on the street for almost 2 years. So many times, during that phase in my life, went for days without food. I still remember how it felt to be hungry and really have no hope of getting any meal anywhere.
Being someone who has been where these people are, I was moved by compassion and my team immediately created our second project, the COVID-19 Food Relief Program aimed at alleviating the sufferings of the poor and vulnerable. Our primary beneficiaries were the families of the children we work with. We donated free food items to them and started sharing our work online to get more people to donate to us. Our work gained traction and we got a lot more donations to cater for over 3,000 families in three COVID-19 hotspot States in Nigeria by the end of June 2020.
On a visit to one of the camps in Abuja to distribute the free food items, the children asked a lot of questions about COVID-19 that kept us at the camp for hours.  At the end, it was clear that so many children out there knew little or nothing about COVID-19. Our response to that problem was the COVID-19 book, "There Is a New Virus in Town."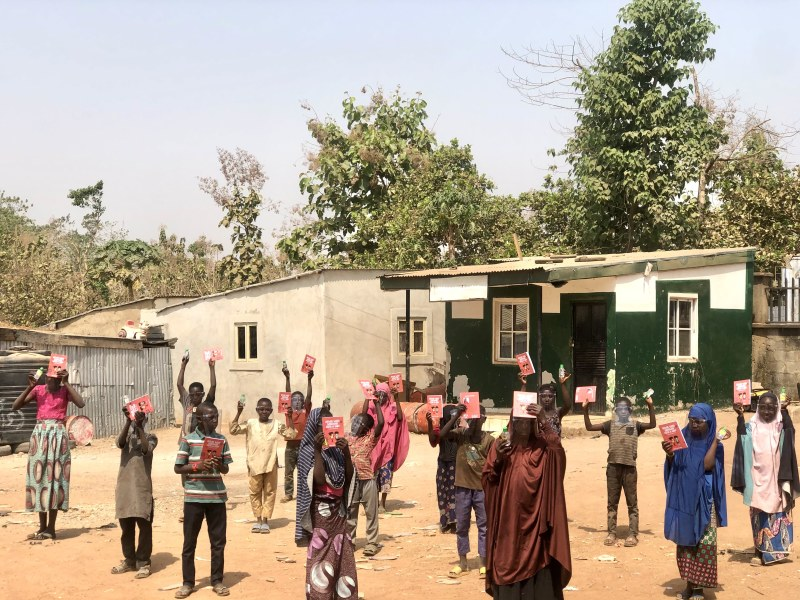 I recall getting home that day, exhausted yet determined to pen down the first draft of the book. I searched the internet for available information on COVID-19, with what I had already heard from the news, I created a layout and started to fill in gradually. Three days after, I had the first draft which I gave to a few children to read. I wanted to get feedback about the language, images and fonts. This I got thankfully and the book was finalized in less than a week. I went on social media and announce that we needed funds to print the first 1,000 books and in June 2020, the first version was printed. A few of our volunteers were hesitant to go out due how fast the virus was spreading in the Country. So, we decided to courier copies to their locations and have them distribute to children around them.
After the first 1,000 distribution, I was restless and wanted more children to get the right information about the virus. I reached out to my friend and family members and we raised funds for another 1,000 copies. It was during that distribution that we got on the news and Mastercard Foundation found us. Through that partnership, we have distributed another 3,000 copies of the book to schools and low income communities in Abuja and Lagos State in Nigeria.
In one of the IDP camps, while distributing the COVID-19 book, we met children who couldn't read in English and because I could speak the Hausa Language. I immediately started translating the book in a language they could understand and it just made sense to them. We went back and got a professional translator to get the book out in the language they will understand. Some of them couldn't read both the English and the Hausa version, so we gave the books to their parents and explained how they can read to their children and the benefit.
These visits truly opened our eyes to the misinformation out there about the virus. We met children who told us they were told God sent the virus to wipe the earth of adults who have sinned and went onto say that is why the virus wasn't affecting children. I have since seen that there are a lot of children, including those displaced by conflict, those who living in vulnerable conditions, the IDP camps, informal settlements, and on the street who need the right information that can keep them and their families' safe from Coronavirus.
We are working on translating the book into other languages including, French, Swahili, Kinyarwanda, and Amharic. This will help us reach more children even beyond Nigeria.
We have a goal reach more children with the book and also make the book available to parents online. Our work isn't done because Nigeria and many other countries are currently experiencing the second wave of the virus. We can't stop now.
We all can't be in the frontline of the battle against COVID-19 but we must all in our own way continue to stand together to tackle the greatest public health challenge of this generation.
Join the newsletter to receive the latest updates in your inbox.