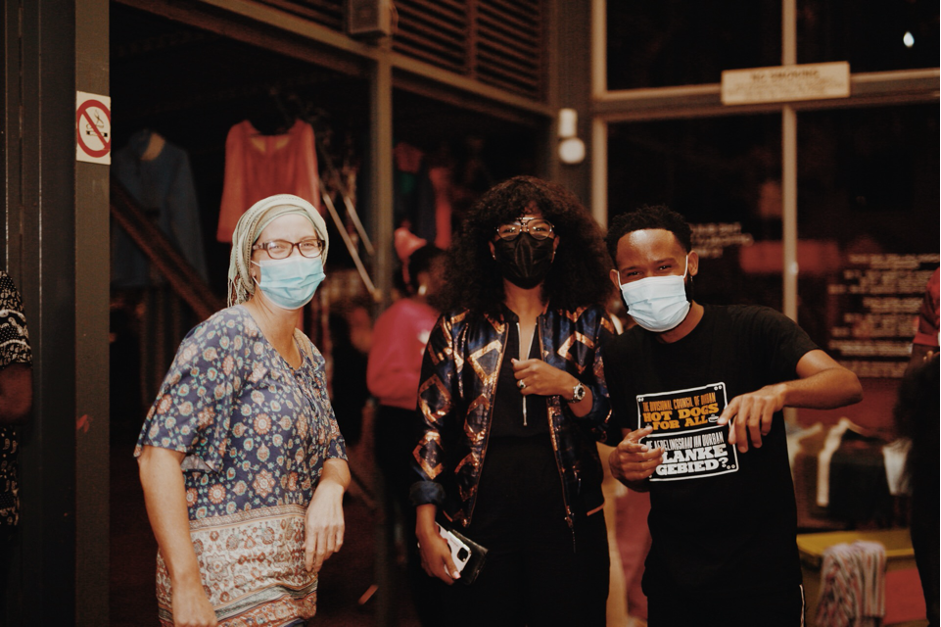 Anti-Racist Hotdog
For academic and activist Wandile Mthiyane, the search for dinner one evening was a painful reminder of how remnants of apartheid are alive and well in South Africa. He now uses food to help his community and address racism and prejudice in his home city of Durban.
One Saturday evening in late October 2020, I decided to go out for dinner because I was too lazy to cook. I decided to try out a restaurant on the Point at the Durban beach promenade. As soon as I walked onto the promenade platform, I saw many people there, but I quickly realized the place looked more like Idaho than Durban. My people haven't figured it out, I thought. I'm Christopher Columbus exploring a new world. Just then, a white man with a ponytail approached me and told me I can't eat there. Why? I asked. He then asked if I was a member. I said I didn't know that I needed to be a member to eat here. I asked for a day membership, but he said no. When I asked how to join the club, he told me to email someone, who would send me the application.
So, I had my black friend Sibonelo try to become a member. To become a part of the club, you applied for either a "watersports membership" or a "social membership." We decided to apply for the latter. He emailed the contact and received a strange application request. The request was for a photo of himself accompanied by two "current members of the club in good standing." The "relevant committee" would then consider the application and inform him of their opinion. Our later op-ed addressed our key concerns: Why was it that his photo was the only requirement from the applicant? Why was there a committee that determines whether you're in or not based on their opinion and your photo?
It was at that moment I realized that even in South Africa, black lives are still worth less than anything else. I had travelled to London, Rome, Paris, San Juan, Stockholm, and various other white spaces and have never been kicked out simply because I am black. In Durban, my own home town, I was kicked out of a space. It brought me back to my childhood, and the racial trauma I faced in it.
As I was considering my reactions, instead of living up to their racist expectations, I searched for an innovative protest method that would benefit me rather than take away from my dignity
Growing up, I had a cousin who participated in extra-curricular activities that may have included crime as a form of active justice against the apartheid regime. He and his friends would steal from affluent neighbourhoods and bring the spoils back to our community. Even four years after apartheid ended, this was how they knew to help our informal settlement community survive. For most community members, the only way out of poverty was crime thanks to underfunded schools, high unemployment, and other crucial components of a functional society.
With the crime came the racist cops. Once a month, a military-style police unit - we named "the fire squad", would kick down the walls and doors at 2am looking for my cousin. I was five years old at the time. They pointed guns and giant torches in our faces while asking us where he was. They'd never find him.
That was my first introduction to white people in South Africa. It was also my introduction to the fate of a black man. The impression I had as a child was that we sinned the day we are born black. We all knew we didn't deserve any of that treatment from the police, but it was accepted as a known fact. So, when as an adult, a security guard rejects me from a public space, it brought back memories from my childhood and made me realize how poorly things have gone since apartheid ended. White people already see me as a savage man, and they perpetuate that narrative by excluding me. They expect me to loot and break windows so they can point fingers at me and justify their violence.
As I was considering my reactions, instead of living up to their racist expectations, I searched for an innovative protest method that would benefit me rather than take away from my dignity. When I looked at other black protests globally, they cost the protester more than the perpetrator. Look at Black Lives Matter, where the police and other white supremacists beat, shot, and tazed marchers. I needed to get the anti-racist message across while giving back to my community. And that's how the Anti-Racist Hotdog was born.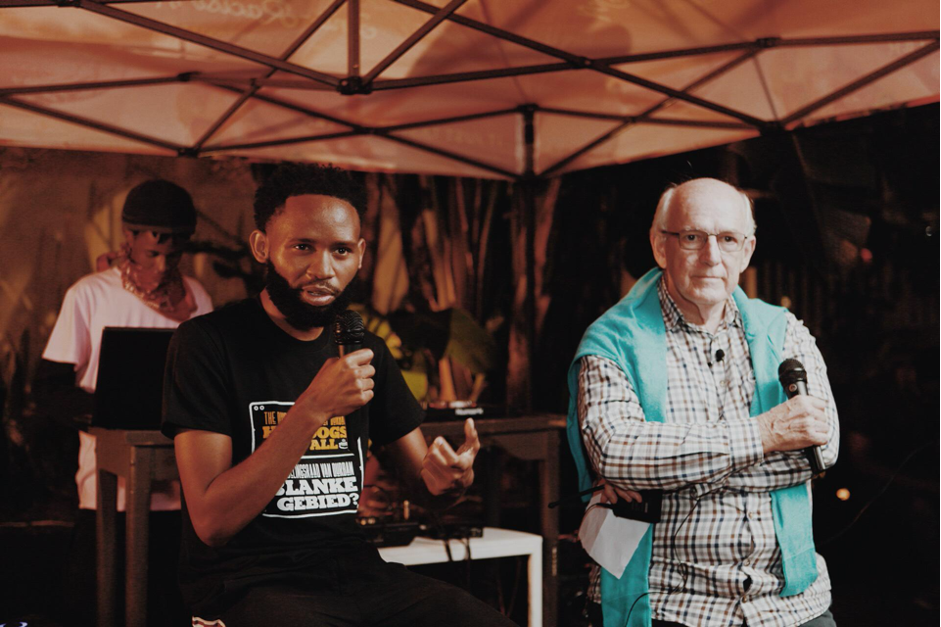 I placed a pop-up hotdog restaurant right on top of the promenade. It was strategically located at the historically white beachfront so that whoever came by would see and engage with it. It also needed to be a business for black people, creating employment, opportunities, and food sources to those discriminated against in society. We also gave free hotdogs to homeless people.  As an architect, I believed it important to build a black-owned space in a historically white-reserved area. It was to be a stand, a physical object, to reclaim and take up space as a symbol of protest.
However, because we initially did not have a permit from the municipality to use the beachfront, we had to start the pop-up elsewhere. We began holding Thursday events at the KZNSA, attended by over 100 people of different backgrounds, races, and age groups. This made me realize that we're not alone, that so many people hate the continuation of this discrimination. Durban township-born gqom house music played in the background as attendees ate, drank wine and chatted, with long lines reminiscent of long voting queues in 1994.
The more we hosted the Anti-Racist Hotdog parties, the more people came. Word spread through personal connections and social media. White and black journalists started publishing on the events, calling for more equity and justice society-wide. The Obama Foundation tweeted us out. Dr. Michael Sutcliffe, a former city manager of Durban came to talk about his own experiences. Then we started hosting by the beach, where we became a photography phenomenon. Visitors were angry, laughing, or happy, but no matter their emotion, they would always ask what "anti-racist hotdog" meant. During my narration, listeners were always shocked by how it started. The pop-up thus initiated a much-needed discourse in the city. It continues to be about that discourse.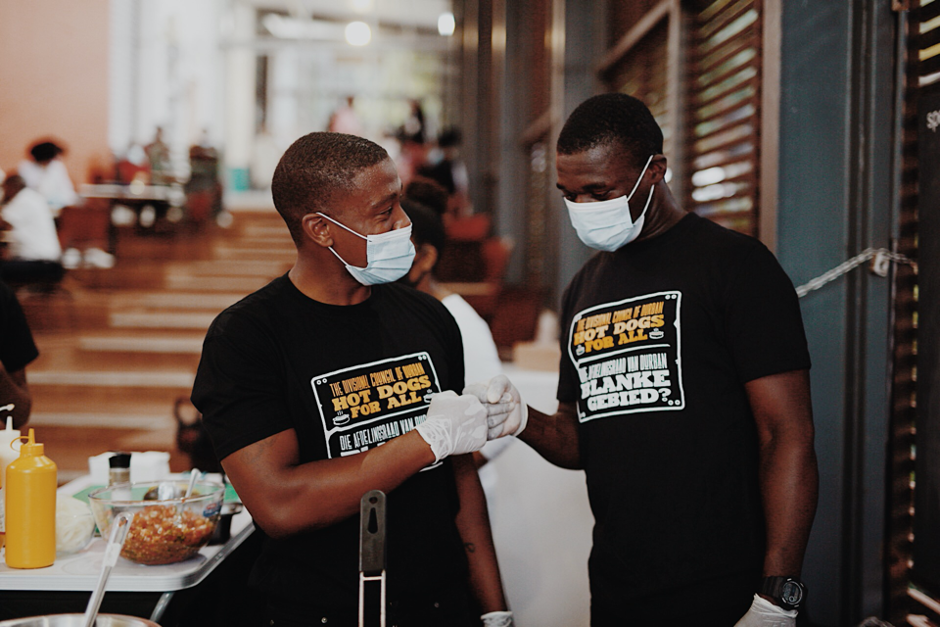 Not only do we promote cross-racial conversation, but we also provide a safe discussion space during COVID19. We require all attendees to sanitize and wear masks. Social distancing regulations are enforced and all containers are disposable and not reused. Since Anti-Racist Hotdog emerged from the pandemic, it was constructed with the pandemic in mind.
Finally, Anti-Racist Hotdog has addressed many of the inequalities that have worsened over the past year as a result of lockdown regulations and mismanaged finances. I recently wrote op-eds on the racial tensions and economic inequalities that drove the July 2021 protests in KwaZulu-Natal (KZN) and Gauteng. Through the Anti-Racist Hotdog, we had, in fact, anticipated these protests. We targeted white supremacy and systemic racism in Durban, and devised an initial step to combat the problem. These tensions had been around long before July 2021, long before apartheid, even. Repairing them will take years, if not decades. While the Anti-Racist Hotdog cannot fix everything, it can stimulate the healing process.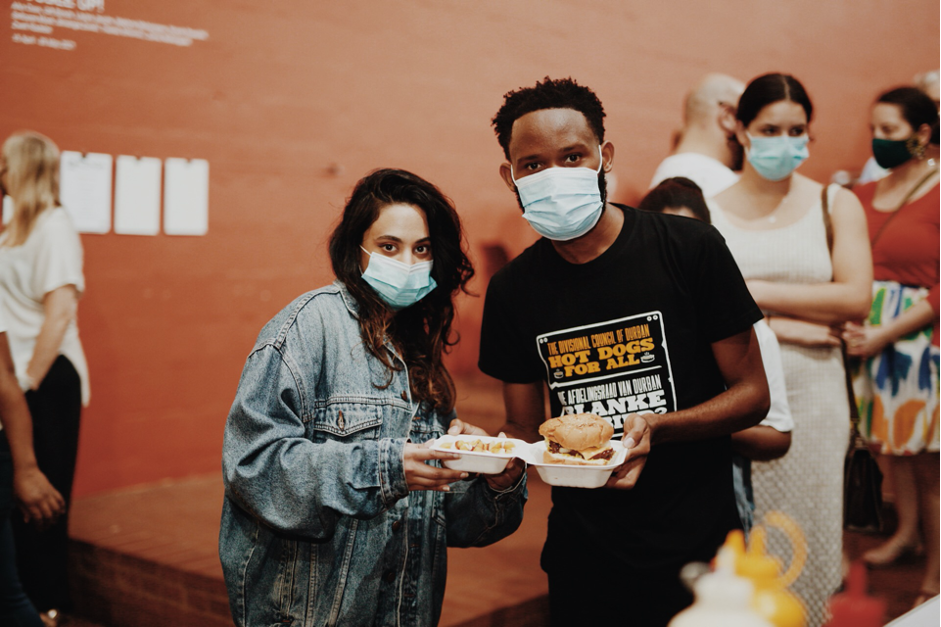 We are doing this because we reached out to the City of Durban to dismantle the racism inherent in the municipality. They ignored us repeatedly. We recalled Obama's words: "Change will not come if we wait for some other person or some other time. We are the ones we've been waiting for. We are the change that we seek." We hope the Anti-Racist Hotdog will inspire people to become the change they want to see in their communities. It is time to stop asking for permission to bring about change. We need to be that change ourselves.
---
Wandile Mthiyane is a political analyst, adjunct professor and an architect who holds a master's in architecture from Andrews University in the US. He is an Obama Foundation Leader, Resolution Fellow, and the CEO of social impact architecture firm, Ubuntu Design Group, The Anti-Racist Hotdog and Ubuntu Architecture Summer Abroad Design Justice school. Follow him on Twitter & Instagram: @wandileubuntu
Join the newsletter to receive the latest updates in your inbox.