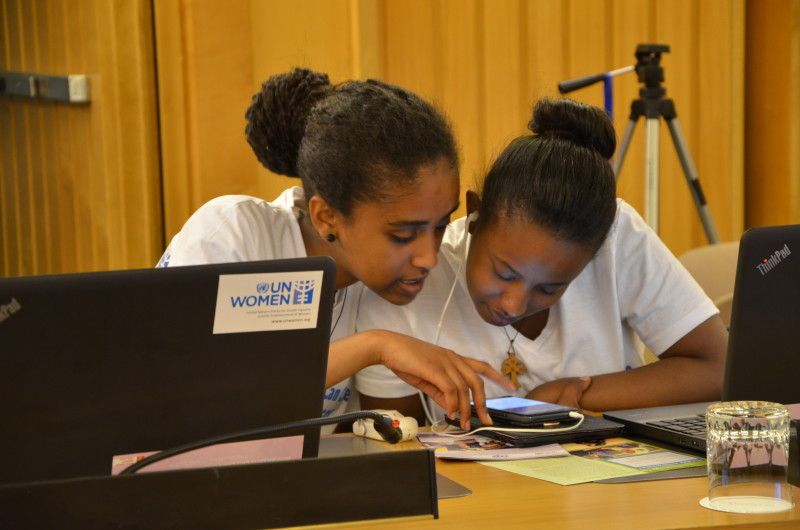 African Girls Can Code
ike most male dominated fields, sexism abides relatively unchallenged in the tech industry, a problem that presents a barrier to entry, leads women to quit their jobs, or discourages them from considering a career in ICT entirely.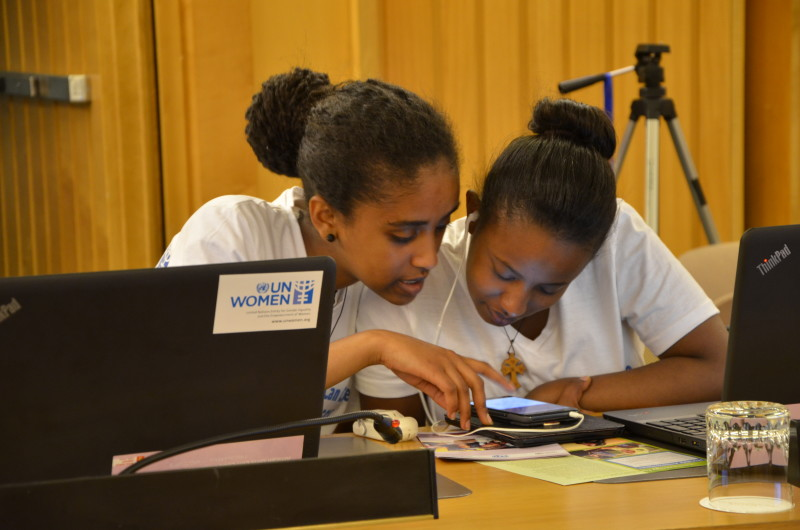 Prior to joining coding camp last year, Betty Tesfaye had only encountered male coders and computer programmers in movies, and assumed coding was the preserve of geniuses.
"I thought it was hard to code, which is why the first day of camp was special," said Tesfaye, a law student who recently completed a two-week coding program in Ethiopia organised by the African Girls Can Code Initiative(AGCCI).
In camp, she witnessed female trainers in their coding element, which not only disabused her of the notion that coding was a difficult undertaking reserved for boys but also sparked an interest in the legal aspect of cyberspace security.
Another young woman who has been imparted by AGCCI is Selamawit Haile, a secondary school graduate now contemplating studying computer science instead of medicine at university level.
"Before camp, I had no clue about computer science that's why I chose medicine," said Haile, a decision engendered by her learning turtlestitch, a software that generates fabric patterns and ties into her love for embroidery. "From childhood I've been interested in embroidery and knitting, so I was extremely happy to upgrade myself with the turtlestitch class during camp."
Across the world, the digital gap between men and women persists, with the latter trailing behind. And while attempts to reduce the discrepancy have been successful, in Africa, that reality hasn't budged. According to a 2020 report by the International Telecommunication Union (ITU), a United Nations agency responsible for facilitating access to information and communication technologies, women in Africa are 17 percent behind men in their internet use, the largest gap in the world. In addition, the report revealed that 40 percent of the total youth population in Africa is online, demonstrating the continent's burgeoning tech-driven demographic.
To address Africa's technological lag with respect to gender and prepare girls and women for the fourth industrial revolution, the ITU in partnership with United Nations Women and the African Union Commission launched the African Girls Can Code Initiative in 2018. The four-year initiative aims to empower 2,000 girls and women between the ages of 17 and 20 with skills in computer programming, design, and coding.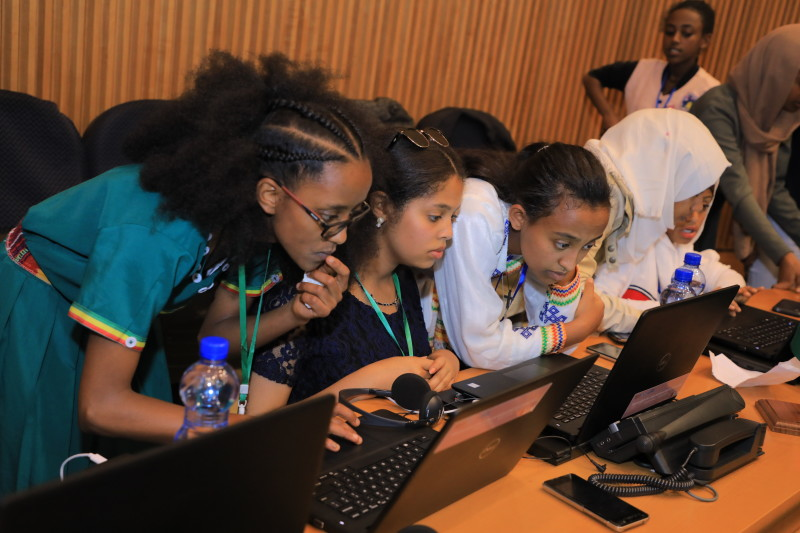 The programme, which runs annually in Ethiopia's capital, Addis Ababa, adopts a hands-on approach to demystify tech and inspire more women to pursue careers in the industry. Aside from technical training, participants also learn public speaking and build their confidence, a lack of which has dissuaded women, unlike men, from applying for jobs they feel they don't possess all requirements.
Founding member and design lead for Open Source Community Africa, Peace Ojemeh, believes non-technical training is vital to improving the self-esteem, skills and capabilities of girls who are keen on tech.
"It creates an avenue for the fire in her to keep burning as she confidently and unapologetically pursues her career," said Ojemeh.
What's more, attendees can connect with mentors, influential professionals in tech, learning institutions and tech firms through the program's online networking platform.
"I do have contact with mentors and professionals, who have been great in helping me understand the tech world," said Haile.
Another goal of AGCCI involves encouraging individual African governments to include Information and Communications Technology (ICT) and gender in national school curriculum to ensure children not only acquire the education required to adapt to the digital age but also understand implicit gender bias.
"Research shows that skill acquisition through education and training is one of the more powerful tools policymakers can use to reduce the digital gender gap," said a UN Women spokesperson via email. "Using gender-responsive pedagogy ensures national ICT and coding curriculum respond to the learning needs of all students, especially girls, and ensures they acquire a strong foundation of digital, coding, ICT and leadership competencies that will support their transition to further education and careers."
Like most male dominated fields, sexism abides relatively unchallenged in the tech industry, a problem that presents a barrier to entry, leads women to quit their jobs, or discourages them from considering a career in ICT entirely.
"Sexism has negatively impacted the industry as it has led many to think the space isn't 'feminine' enough to dive into," said Ojemeh, who mentors girls interested in technology. She added that women who have in the industry experience gender discrimination because they are perceived to be innately beneath men, an erroneous belief that impedes women's careers.
Consequently, the prominence of men's views in tech has resulted in software design flaws like Amazon's since aborted recruiting technology that favoured men's applications over women's due to the heavy use of the former's resumes during its development. Similarly, Google's facial recognition service experienced hiccups when identifying women, demonstrating just how implicit discrimination against women influences Artificial Intelligence.
This is the sort of imbalance AGCCI seeks to redress by getting more girls into science, tech, engineering and mathematics, or STEM. Also, doing so will help reduce youth unemployment and gender inequality across Africa and become an economic boon for governments and businesses when more women and girls get online.
It's a sentiment UN Women holds. "Africa will not prosper if it underutilises half of its population [and] the AGCCI unleashes the skills of young girls to ensure they are at the forefront of Africa's development," said a spokesperson from the organisation.
Despite the travel restrictions imposed by the pandemic, AGCCI's schedule remains on track having trained participants last year via a combination of in person and virtual meetings.
For alumnae like Tesfaye, the closing of schools due to the pandemic was a blessing in disguise as the down time afforded them time to attend coding camp.
"I never thought I would like coding. But it's so easy," she said, adding that the raft of women trainers in camp made her realise that women are capable of doing anything as long as they set their mind to it.
Images courtesy of UN Women
Join the newsletter to receive the latest updates in your inbox.