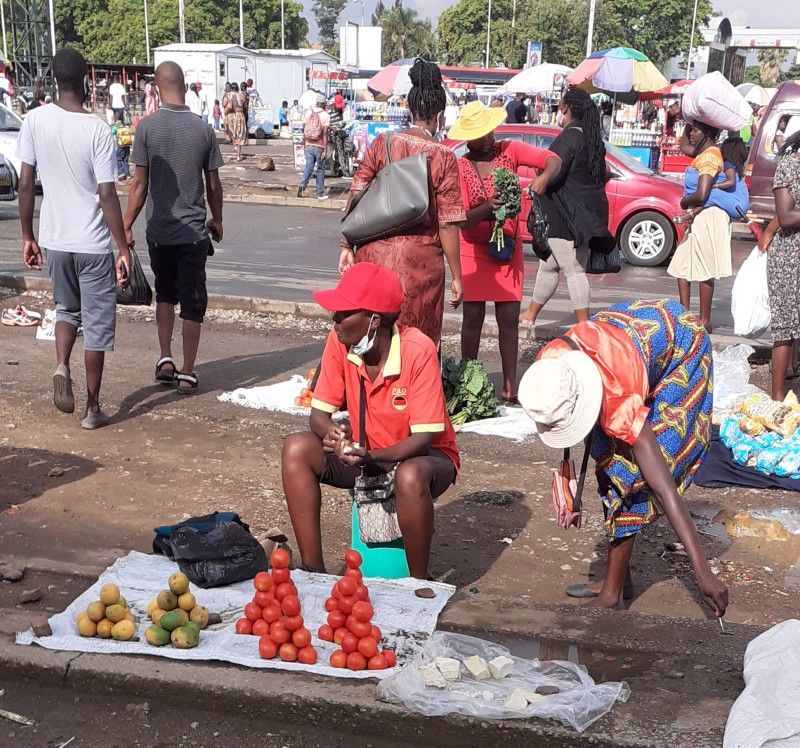 A Driver's Troubles in Zimbabwe
There's a popular saying that Zimbabweans always use through hardships, 'Chikuru kufema'. Breathing is the most important thing.
By Dzikamayi Chando
People in small pockets ease through the thicket on a footpath that leads them into town via the silent and smokeless industrial area. Having circumvented police patrols and roadblocks, they still have to play cat and mouse with the lockdown enforcers in town. Some of them are street forex dealers commonly known as 'money changers', others are vendors who want to restock their wares; or they are just there to seek opportunities that could give them a day's meal.
With the country's annual inflation rate at a startling 676% and looming food shortages, the Covid-19 pandemic placed the majority of Zimbabweans between anvil and hammer. The consequent restrictions aggravated an already impossible situation, it decimated the dregs of dreams. The informal economy (which comprises about 90% of the total workforce - largely vendors) was completely shut down. The inevitable company closures dwindled the small formal workforce, further crippling the ailing economy.
Combi (taxi) drivers, touts, farmers, vendors, bartenders, barbers, sex workers and entertainers were all confined to their homes with neither a regular source of income nor an alternative plan. Fruit and vegetable markets were totally closed and private public transport was banned, leaving the state-subsidised Zupco buses as the sole mode of transport for those who were permitted to travel. The banning of private public transport during lockdown divested David Dube, 30, a Combi driver of five years, of his income. David stays with his unemployed wife and two daughters, aged two and four, in a rented two-roomed house in Mkoba, a high-density suburb 10km from central Gweru- Zimbabwe's third largest city.
Like the majority of Zimbabweans, David lives from hand to mouth. The reintroduction of state-run Zupco buses, whose fare is largely subsidised by the government, reduced his commission-based wages. "Ever since I was married, I've never watched the last food in my house being eaten without a plan of what I would do next" David says, as his wife helps him organise fruits and vegetables on a makeshift stall in front of their house." I looked at my kids and felt helpless", he adds, while his wife hands me the bundle of vegetables I've just bought. David sought a small loan from his employer and was lucky enough to get one. Seeing that the fruit and vegetable market had been partially opened after the initial twenty-one-day lockdown, he decided to start this business with the small loan in a bid to not ever experience that helplessness again.
I ask him how the business is going. "As you can see, somebody is selling something so the competition for the little money in circulation is stiff. I'm lucky that my neighbour sells stuff I don't sell." I look at the mini stall next door; there's cooking oil, rice, mealie meal and sugar, all repackaged into smaller quantities known as tsaona (it literally translates to 'accident' and they're bought as an emergency measure). Being familiar with the place, the sudden mushrooming of vendors is conspicuous to me. David reveals that he walks to town thrice a week and only buys enough produce so that his stock will not go bad. "But we're surviving my brother, it can't be the same as just sitting. A lot of my colleagues relocated to the rural areas but some of them have also joined this trade of vending." he remarked.  Indeed, the volume of urban to rural migration towards the lockdown was massive as people escaped to a less expensive lifestyle.
When Lockdown restrictions were relaxed, David went back to being a driver but his wife is still running the fruit and vegetable business. The business compliments his meagre wages especially with the pandemic having worsened the operating environment for private providers of public transport.
David's story is just one among millions, the country's already ailing economy was battered by the pandemic but the resilience of the people was steeled. There's a popular saying that Zimbabweans always use through hardships, 'Chikuru kufema' (Breathing is the most important thing). Ironically, they had to fight for the preservation of their livelihoods during a pandemic one could catch through breathing.
Join the newsletter to receive the latest updates in your inbox.